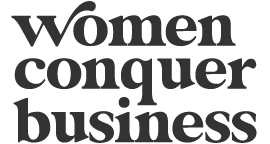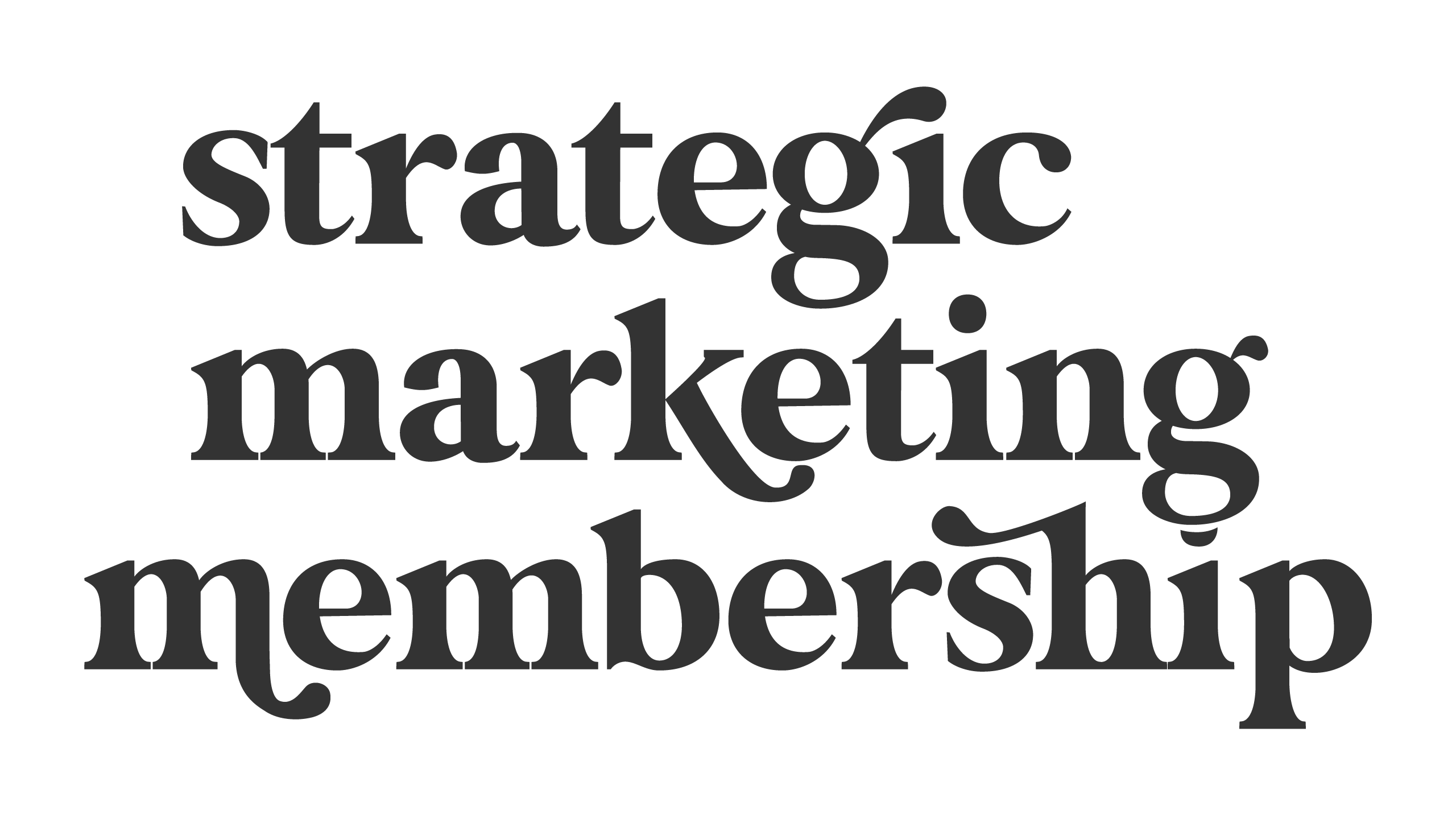 Grow Your Business with Confidence: Join Our Strategic Marketing Membership Today
You're an expert in your field.

Nobody told you you had to become a MARKETER too.

We are all marketers now.

The Strategic Marketing Membership is your SAFE SPACE for asking questions, getting training, and reserving time to work on your business, not just in it.

Our weekly one-hour events and resource center provides the support you need to put your best foot forward.

100% ethical marketing.
Empty space, drag to resize
I love working with Jen McFarland because she always gives more than expected. For every question I have or challenge, Jen delivers spot-on helpful advice to improve my business and my life.
— Shelley Carney
Chief Creator, AGK Media Studio
Jen is a REAL wizard and super-shero! With a heart of gold and ears like radar, she listened with intent to my needs and concerns. Jen then crafted a system that works for me and my current capabilities with a mindset for business expansion.
– Loni Langdon
Founder, All Equines Bodywork
Jen McFarland has the best combination of high-level marketing guidance involving leadership, empathy, knowledge-prowess, and connections. Her humble yet clear approach gives you and your team complete confidence that you are in safe hands with the precious asset of your marketing engine.
– Sunil Bhaskaran
Founder, Global Business Communities
Strategic Marketing Membership Overview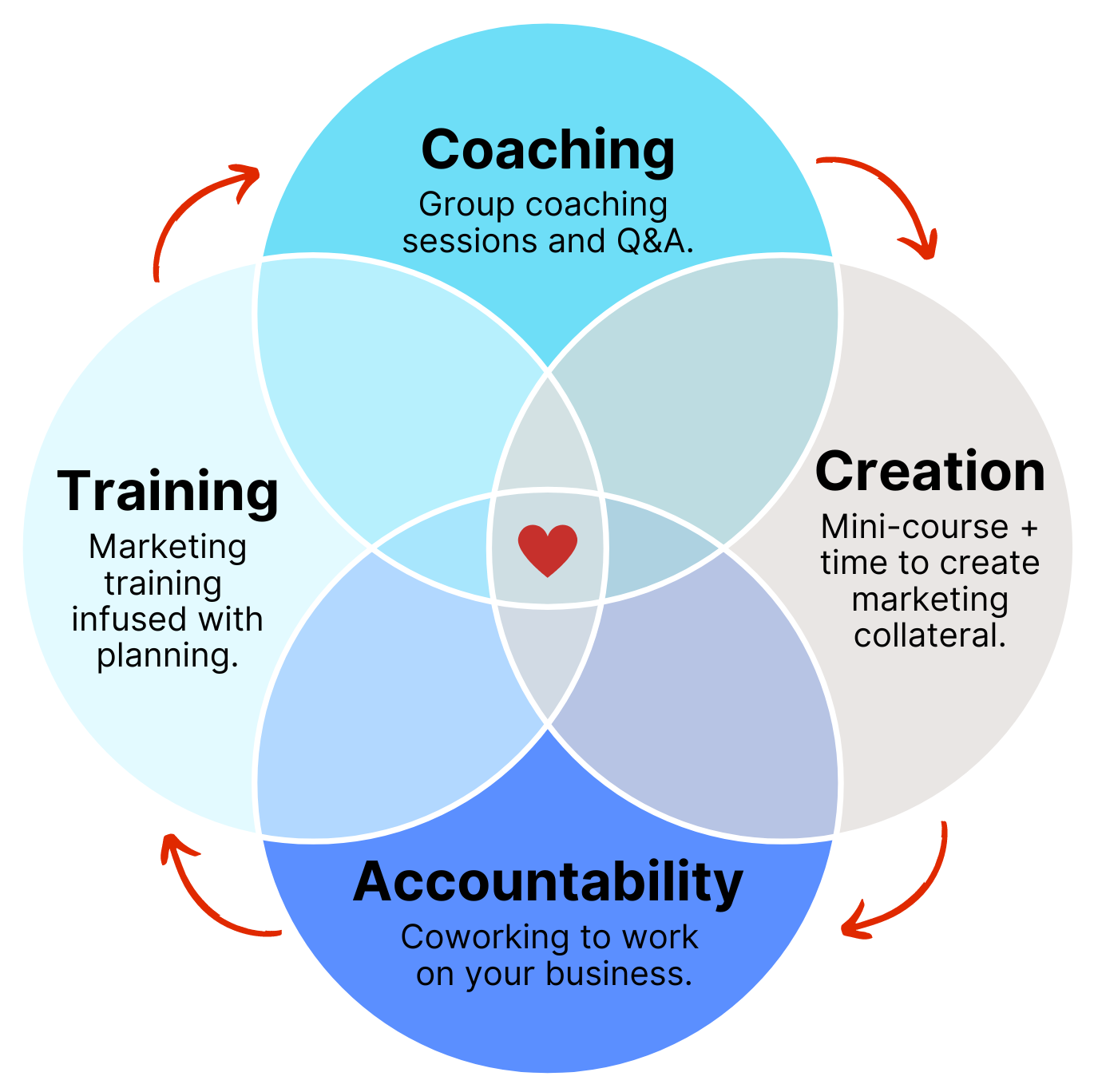 Empty space, drag to resize
Get access to:
Monthly group coaching sessions

Coworking sessions

All live content parties and marketing training events (including replays and worksheets)

Audio-only lessons (learn on-the-go)

Marketing resource center

All stand-alone marketing and business courses
Monthly Themes Give You Time to Immerse Yourself in Key Concepts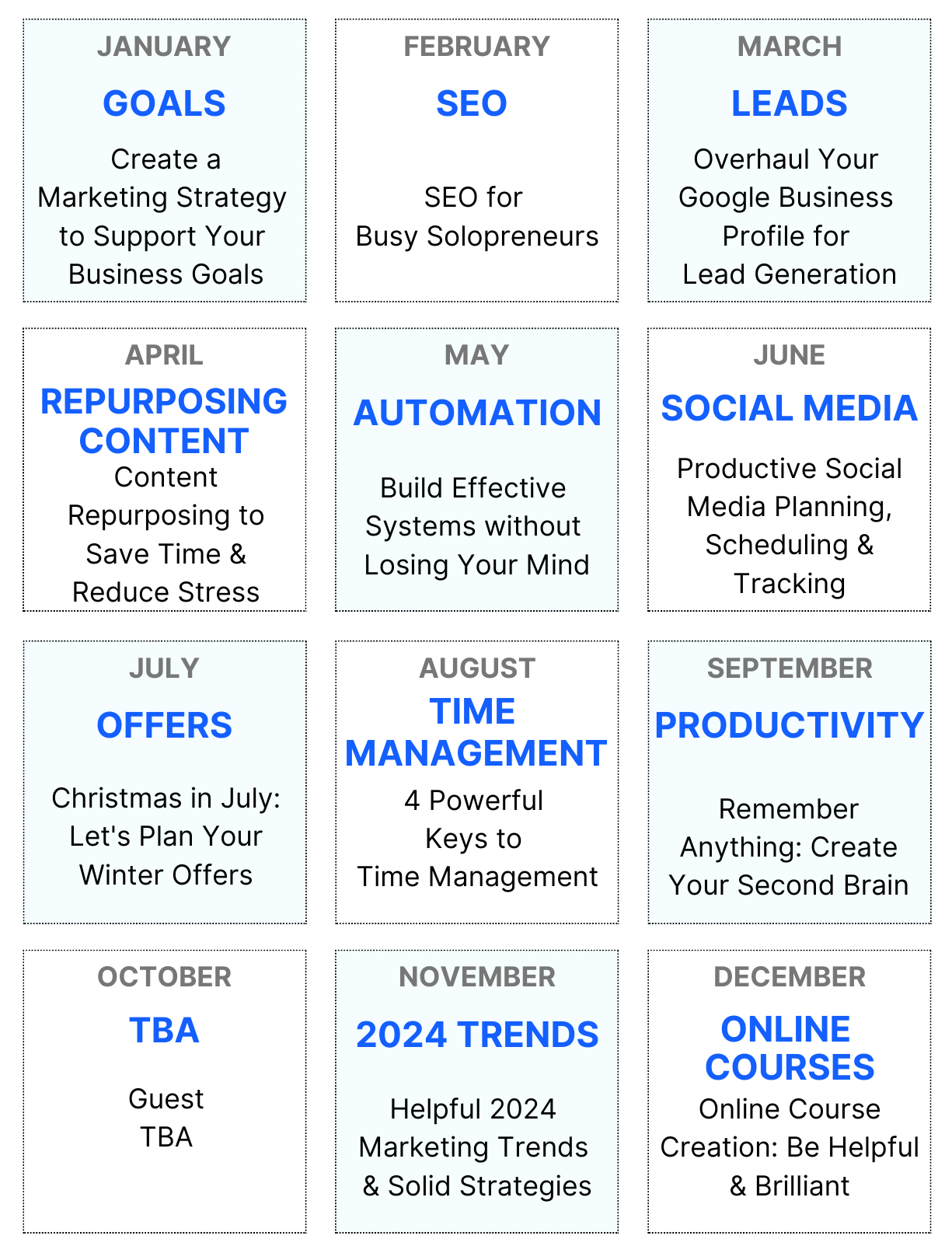 Goals: Create a Marketing Strategy to Support Your Goals


Search Engine Optimization: Easy & Useful SEO for Solopreneurs


Leads: Overhaul Your Google Business Profile for Lead Generation


Repurposing Content: Content Repurposing to Save Time and Reduce Stress


Automation: Build Effective Systems without Losing Your Mind


Social Media: Productive Social Media Planning, Scheduling & Tracking

Offers: Christmas in July: Let's Plan Your Winter Offers


Time Management: 4 Powerful Keys to Time Management


Productivity: Remember Anything: Create Your Second Brain


Trends: Helpful 2024 Marketing Trends & Solid Strategies


Courses: Online Course Creation: Be Helpful & Brilliant
Empty space, drag to resize
Secret Sauce: Teaching Essential Marketing Concepts
Simply

, Making Them

Accessible and Doable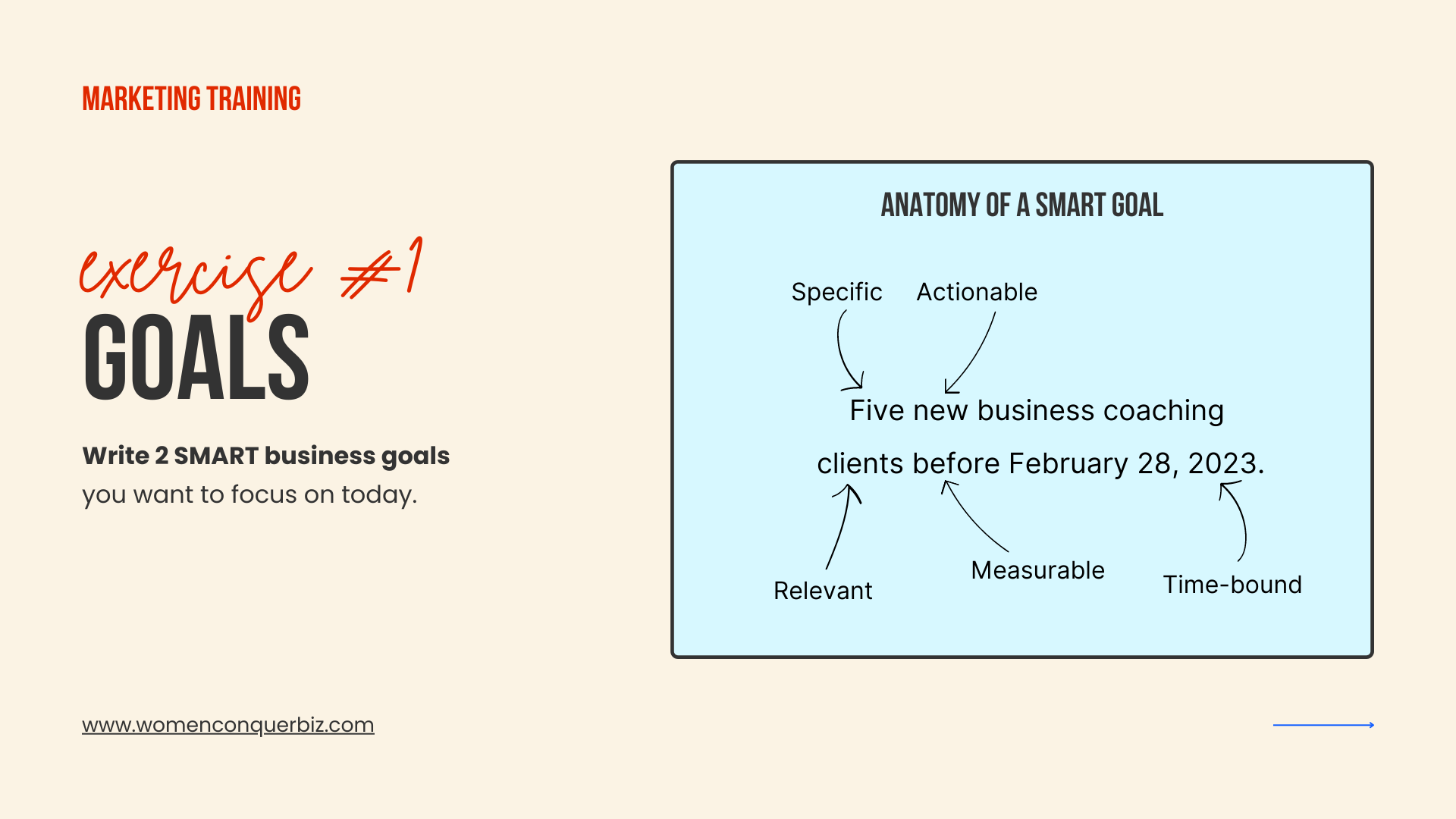 Increase visibility

Get the word out about the things you care about (without feeling icky)

Attract more leads (not just any leads… your people)

Improve customer engagement

Get the advice you need from someone you can trust.
Jen is the best combination of business operations strategist, badass tech fairy, and common sense, authentic marketing coach. Her content—which is aimed at small businesses/solopreneurs—is fun and clear, and best of all, actually makes a difference to your bottom line. Check out her courses and monthly social media content parties!
— Laura Rowe
The Vital Spirit
Jen is a wonderful resource! Whether it's helping to figure out website issues, structuring systems for working with clients or getting your business out there, or just supporting your business ideas with useful and practical suggestions, Jen is there to help. Jen is soooo knowledgeable when it comes to technology and is up on the latest trends and resources for your business - I can't say enough good things about her!
— Marci Koski
Cat Behavior Consultants


Jen is truly amazing to work with - she just gets it! She's a connector of people and solutions and has vast business knowledge that is incredibly valuable to business owners and managers. I highly recommend Jen and Women Conquer Business.
— Krissy Justice
TenKey Management & Bookkeeping

Empty space, drag to resize
Who is this membership for?
Coaches, consultants, healers, mentors

Service-based businesses and experts

Visionaries who've been dismissed or disrespected, overcharged or underserved, searching for better support

It's a sanctuary for entrepreneurs who've been buried under mountains of can'ts, shouldn'ts, and don'ts

This is for people with great ideas who need a little nudge to reach their full potential

People open to change who want to build efficiencies into their businesses, find and leverage solutions, create marketing systems that bring your whole operation into gorgeous, humming harmony
Empty space, drag to resize
Who is it
not for

?

People looking for black-hat, too-good-to-be-true marketing tips (we don't do that)

In Fact...

That's Why I Built this Membership

I'm SO TIRED of hearing stories about good people with great ideas (just like you!), feeling overwhelmed and misled thanks to:

Sleazy Bro Marketers: People promise the world (from their fake yacht pictures) but deliver very little once they have their hands on your cash...

One-Trick Ponies: People who sell what worked for THEM (but don't know anything else about marketing)

Long & Boring Lessons: Who wants LONG and BORING and TECHNICAL lessons? Our courses are shorter, with weekly events so you can implement the strategies and ask questions

Big Claims: You don't need a big email list or a HUMONGOUS budget. In fact, most of what we teach are strategies to help you maximize organic methods over the long term

Empty space, drag to resize
Get Instant, All-In Access
Pay Monthly
$25/month
Recurring payment - cancel anytime in just 2 clicks of your mouse
Pay Annually
BEST VALUE: Save $190 when you join on an annual subscription!
Empty space, drag to resize
Yes. This is crazy cheap. It's a brand new membership and the rates will go up.

The prices are low because I want to build the membership up, AND make it accessible to as many small businesses as possible.
Empty space, drag to resize
The words "bootstrapping BEGINNER podcaster" in the product description describe me to a "T," and the purchase price was low, so I thought, Why not? Indeed! This may just be the best $3 I ever spent. There really is *so* much info packed into the PDF, and I especially appreciate that the tool reviews include dates.
— Peggy
AppSumo Customer, Ultimate Podcast Planning Checklist
I bought so many different deals on Appsumo. And... this is my first review ever.
Why?
I feel excited and motivated to start working on my podcast.
By the way, I recommend you to start with Jen's "3 Big Mistakes Podcasters Make". It's a free course that you can find in the membership zone.
You'll like everything: content, structure, presentations and video lessons.
I really enjoyed the course and recommend it to everyone who is thinking about own podcast.
— Gulnara
Appsumo customer, Ultimate Podcast Planning CHecklist
This is EVERYTHING.
I've been podcasting for 3 years and I decided it was time to go back and examine the assumptions I made back and and see if there were updates I needed to make. Budget, equipment, and even suggestions for other AppSumo software I can use to make my job easier.
Thank you so much for this fantastic product. It's worth 10x what you're paying!
— leah
Appsumo customer, Ultimate Podcast Planning checklist
Frequently Asked Questions
How much does the membership cost?
Our introductory price is $25/mo. or $250/year
What is the membership's cancellation policy?
When you join the Strategic Marketing Membership you are fully protected by our 100% Satisfaction Guarantee. If you don't feel like you've received value and you decide you want to cancel any time within the next 30 days, just let us know and we'll send you a prompt refund. No hassles, headaches or hoops to jump through.

We're confident that you'll find the Strategic Marketing Membership useful, and we won't make you beg or invoke any silly rules or conditions - if you're not satisfied within your first 30 days then we'll refund you without any fuss.

Oh, and we've heard about people who won't let you back into a membership if you leave. That sounds dumb. Come and go as you like.
How often will I receive new content or training materials?
We issue new content twice each month:
Mini-training + work time to create social media and blogging content (we call these content parties)
Marketing training on core topics to get more leads, automate your business, or increase visibility
What level of support will I receive from the membership or its leaders?
Everything is taught by our founder, Jen McFarland. You will have direct access to her.
What kind of results have previous members achieved from the membership?
This is a new initiative. We've received great feedback from everyone who's attended events or taken our courses. Testimonials are from clients and people who've taken courses.
Will I have access to the membership's community or forums?
Yes. The community/forum is built into our platform. You can ask questions, send messages regarding individual courses, or communicate and network with each other.

We don't do Facebook or LinkedIn groups. We practice what we teach. We want you engaged in business building, not surfing social.
Are there any prerequisites or requirements for joining the membership?
This membership is for business owners interested in ethically marketing their business.
Can I pay for the membership on a monthly basis or do I have to pay for the full year upfront?
Both options are available. Our introductory price is $25/mo. or $250/year.
Is there a trial period or money-back guarantee?
We're confident that you'll find the Strategic Marketing Membership useful, and we won't make you beg or invoke any silly rules or conditions - if you're not satisfied within your first 30 days then we'll refund you without any fuss.
Get Instant, All-In Access
Pay Monthly
$25/month
Recurring payment - cancel anytime in just 2 clicks of your mouse
Pay Annually
BEST VALUE: Save $190 when you join on an annual subscription!
Meet Jen McFarland
Hi, I'm Jen McFarland – Founder of Women Conquer Business - and I've spent years guiding the growth of businesses, from the solopreneur starting out, so crafting policies and programs generating millions at the City of Portland.

With over 20+ years in the marketing, SEO, and web design, and over 10 years focused on strategy, project management, and business solutions, I have a proven track record of helping AMAZING people to achieve fantastic results.

The Strategic Marketing Membership is my newest initiative. I've decided to take everything I've learned from working with 100s of clients and create bite-sized courses, events, and a community based on my work with people like you — solopreneurs and small businesses.

Many of the concepts here are timeless — whether you're new to business or a seasoned owner, we've structured the content to support your long-term growth.
Get Instant Access to the Membership!
If you're ready to take your business to the next level by enrolling in the Strategic Marketing Membership, simply choose your payment option below and click the button to join us...
Pay Monthly
$25/mo.
Recurring payment - cancel anytime in just 2 clicks of your mouse.
Pay Annually
$250/yr.
BEST VALUE: Save $50 when you join on an annual subscription!
Created with